RICHARD RODGERS (1902-1979)
Richard Rodgers is considered one of the greatest writers in American musical theatre. Born in New York City in 1902, Rodgers was the youngest of two children. Rodgers' father was an amateur singer and physician, and his mother was a pianist. As a child, Rodgers preferred to play piano by ear and refused to take piano lessons. In 1916, at age 14, Rodgers' copyrighted his first song, "Auto Show Girl". The next year, Rodgers completed the music and lyrics for his first musical, One Minute Please, the first of 14 amateur shows throughout the next eight years.

From 1919 to 1921, Rodgers attended Columbia University where he was introduced to lyricist Lorenz Hart, who for the next 24 years became Rodgers' exclusive partner. Together they produced over 26 Broadway Shows and 9 films. During the early 1930's Rodgers and Hart spent most of their time in Hollywood producing three film musicals, songs for popular film stars, and an unused song which became a huge success, "Blue Moon". The duo returned to Broadway with Jumbo and over the next eight years produced nine musicals, mostly winners. In 1942, By Jupiter became Rodgers and Hart's last show due to Hart's personal and alcohol problems.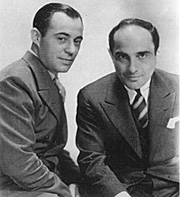 Rodgers and Hart
Rodgers married Dorothy Feiner on March 5, 1930. Rodgers loved how she was attentive to the smallest details. An old friend of Dorothy once told this story about her: "I remember taking her to a musical. From the first row balcony she was able to detect that the third chorus girl on the left was wearing shoes slightly different from those worn by the other chorus girls." Rodgers and Dorothy had two children, Mary and Linda.
After Hart's death, Rodgers joined Oscar Hammerstein II, a former fraternity brother whom Rodgers had known for a while. Rodgers and Hammerstein's first project, Oklahoma!, produced a record-breaking run of 2,212 performances. In the first eight years of Rodgers collaboration with Hammerstein, they created four out of their five major successes: Oklahoma!, Carousel, South Pacific, The King and I, and the film musical State Fair. Rodgers songs written with Hammerstein lacked the jazz essence and varied the forms, instead of using the 32-bar patterns he used with Hart. After Flower Drum Song, in 1958, and The Sound of Music, in 1959, Hammerstein died of cancer.

Rodgers and Hammerstein
However, this was still not the end of Rodgers. In 1962, he became his own composer and lyricist of one last successful show, No Strings, which won him two Tony awards for music and lyrics. Rodgers also collaborated with Stephen Sondheim, in 1965, for Do I Hear a Waltz?, Martin Charnin, in 1970 and 1979, for Two By Two and I Remember Mama, and Sheldon Harnick, in 1976, for Rex. These shows were not as successful for there were conflicts with the actors and other workers.

Rodgers death in 1979, due to cancer of the jaw and other health problems, did not bring an end to his masterpieces. Revivals of many of his musicals are still present today.

Update: When Rodgers was young, he was given some piano lessons from his aunt Tily Rodgers, but did not enjoy theses lessons because he would rather play "by ear". Later in Rodgers' life, after he acheived Broadway sucess, he took piano lessons and improved his playing significantly. In 1919, Rodgers attended Columbia University to write Varsity shows, but in 1921, enrolled in the Institute of Musical Art, now known as Julliard School of Music.
Works Cited
Somewhere For Me- Meryle Secrest
The Richard Rodgers Reader- Geoffrey Block
Richard Rodgers- William G. Hyland